MTC Federal Platinum Mastercard® for Back2School Expenses
Ten benefits the MTC Federal Platinum Mastercard® is the smarter way to purchase back-to-school supplies.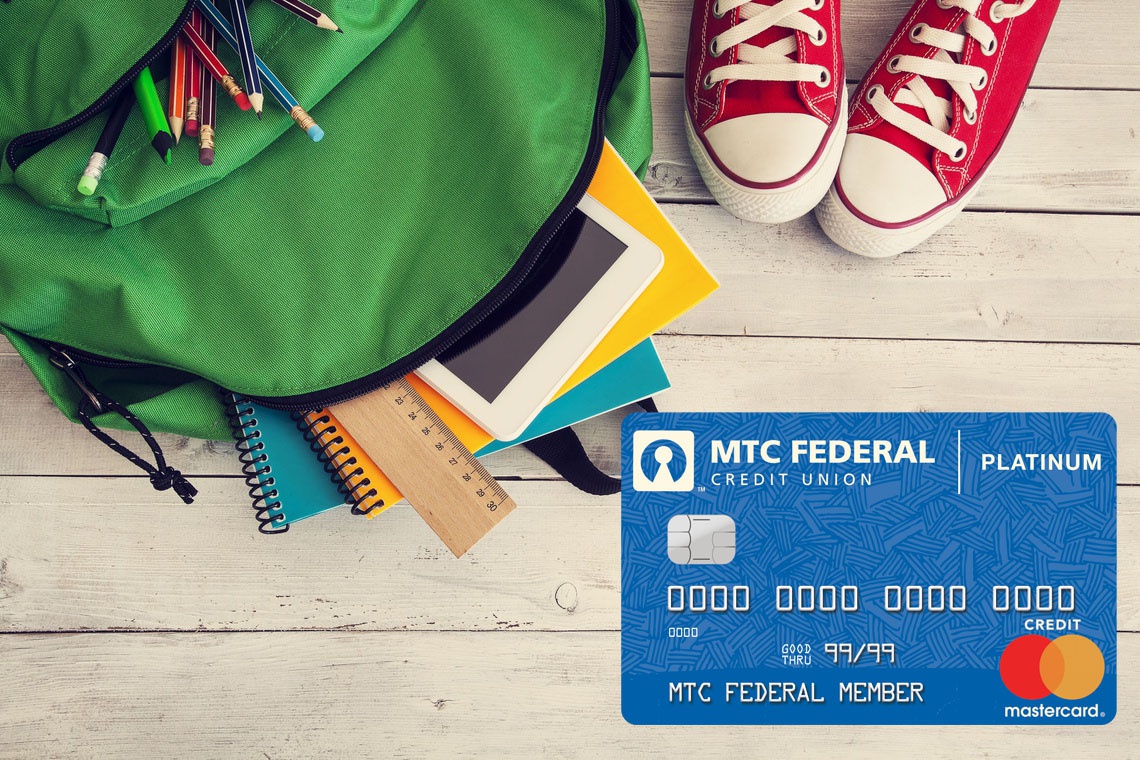 The Smarter Credit Card for Back-to-School
Back-to-school season is expensive but MTC Federal is here to help you get the school year off to a smarter start!
Back-to-School Stats from the National Retail Federation:
Families with children in elementary through high school plan to spend $848.90, $59 more than last year, on average on back-to-school items. Total back-to-school spending is expect to reach $37.1B up from $33.9B last year and an all-time high in the survey's history.
College students and their families are also setting records in spending. Total spending on back-to-college is expected to reach $71B up from $67.7B in 2020.

Member Benefits Include:
Introductory rates of 6.90% to 14.90% APR* .
No annual fee.
No balance transfer fee.
Earn Loyalty Rewards for every $1 you spend.
Ability to choose your own PIN.
Available for Digital Wallet.
EMV chip technology.
Protected with Mastercard® Zero Liability.
24/7 account access via MyCardInfo.
Exclusive Mastercard® Benefits
See how the MTC Federal Platinum Mastercard® is the better card for your wallet: MTC Federal Platinum Mastercard Comparison
MTC Federal Members EARN MORE than 16 MILLION reward points annually.
Points can be redeemed for hundreds of rewards that fit your back-to-school lifestyle:
Manage, redeem and check rewards balance when you log on to MyCardInfo
Begin Your Application in Seconds:

Want to speak with a Lending Expert?
Call 864-908-3402
Monday – Friday, 8:00am – 5:00pm EST
©2021 MTC Federal Credit Union. All rights reserved. Federally insured by the NCUA. Equal Housing Lender. *Introductory rates are good for 12 months on transactions posted within 30 days from the date that your new account is opened. After this introductory period, your new rate will be the standard APR. (See cardholder agreement for details) Annual Percentage Rate (APR) may vary depending on each individual's credit history and underwriting factors. All loans subject to credit union approval. All credit union loan promotional offers, programs, rates, terms and conditions are subject to change at any time and without notice. Offer may end at any time. Other restrictions may apply.