Welcome Home to a Better Mortgage
Lifetime Savings of Refinancing to a Short-Term Mortgage
The Home Ownership Journey Begins with a Trusted Financial Partner — BRING IT ON HOME. With HISTORIC LOW INTEREST rates and flexible options, MTC Federal's short-term mortgages give you the path to financial freedom sooner. Check out these top reasons to refinance your home today:
Switch from an adjustable rate loan to a fixed rate mortgage
Change from one adjustable rate loan to another to lower your monthly payment
Reduce your interest rate and your monthly payment
Build equity faster by shortening the term of your loan to 20, 15, 12 or 10 years.
WHY LOCK IN A SHORTER TERM? The Lifetime Savings for Your Pocket.
Scenario above used for educational purposes only. *APR calculation assumes a 1% origination fee and $5,000 in closing fees. Payments do not include taxes or insurance, which would increase the payment amount.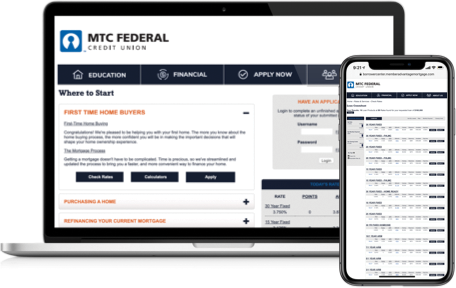 For questions or to set a path for home ownership, check out our Mortgage Center to better serve you!
MTC Federal Credit Union (NMLS#411151) Mortgage Borrowing Center powered by Member Advantage Mortgage, LLC.
All of the tools and services you need to help decide the best mortgage loan for you.
Up-to-the-minute rates & calculators
Checklists for everything you'll need throughout the home-buying process
An encrypted login to safely manage your application and data
Schedule an Appointment with a Mortgage Specialist
Request a same-day pre-approval
Create a Log-In and Get Started
© 2021 MTC Federal Credit Union. NMLS# 411151. All rights reserved. Federally insured by the NCUA. Equal Housing Lender. Interest Rate and Annual Percentage Rate (APR) may vary depending on each individual's credit history and underwriting factors. All loans subject to credit union approval. All credit union loan programs, rates, terms and conditions are subject to change at any time and without notice. Offer may end at any time. Other restrictions may apply.