Mortgages Made for MTC Federal Homeowners
Announcing new partnership with Member Advantage Mortgage
MTC Federal Credit Union & Member Advantage Mortgage Announce New Partnership
FOR  IMMEDIATE RELEASE – February 6, 2020
Greenville, S.C. – MTC Federal Credit Union and Member Advantage Mortgage announced a new partnership today. The goal of this new working relationship is to serve all of MTC Federal Credit Union's membership with enhanced mortgage options.
With Member Advantage Mortgage's backing, MTC Federal Credit Union will offer mortgages that fit needs from home buying to refinancing with a wide array of loan types. MTC Federal services 19,000 members in three states with 10 branches.
"This partnership with Member Advantage Mortgage is another step in putting our membership first," said Bill Love, CEO, MTC Federal Credit Union. "Their mortgage products coupled with our standards for service will help members achieve their financial goals."
"The goal of the Member Advantage Mortgage is to empower credit unions to serve their members with competitive rates and a variety of loan options," said Jeff Leep, CEO at Member Advantage Mortgage. "Working with partners like MTC Federal Credit Union enhances our offerings and strengthens what we can offer to members."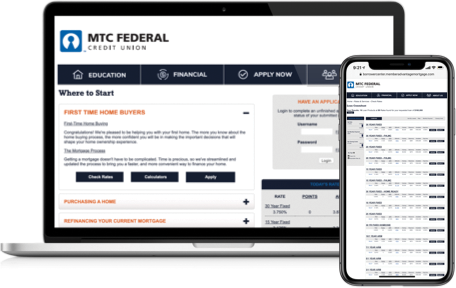 For questions or to set a path for home ownership, check out our Mortgage Center to better serve you!
MTC Federal Credit Union (NMLS#411151) Mortgage Borrowing Center powered by Member Advantage Mortgage, LLC.
About MTC Federal Credit Union
MTC Federal Credit Union, established in 1976 is headquartered in Greenville, SC with more than $196 million in assets. MTC Federal is a not-for-profit financial-cooperative, federally insured by the NCUA.  The credit union has 10 branches located in South Carolina, Alabama and Oklahoma. Member-owners have 24/7 world-wide access to competitive and convenient financial services from auto, home, credit card, checking and deposit services. To learn more about MTC Federal visit MTCFederal.com.
About Member Advantage Mortgage, LLC
Member Advantage Mortgage, LLC (MAM) was founded in 2006 as a member-owned CUSO (Credit Union Service Organization).  It is a wholly owned subsidiary of CUSO Development Company, LLC, which in turn is owned by leading credit unions across the US.  Credit union members expect competitive rates, low fees, and a personalized lending experience. MAM helps credit unions meet and exceed their members' expectations while streamlining compliance and mortgage delivery processes for the partner credit unions. More information is available online at Memberadvantagemortgage.com.